PAINTINGS IN OIL & ACRYLIC

All artwork is copyright protected by the artist and may not be reproduced, downloaded or copied in any way.

Click and image to open a viewing gallery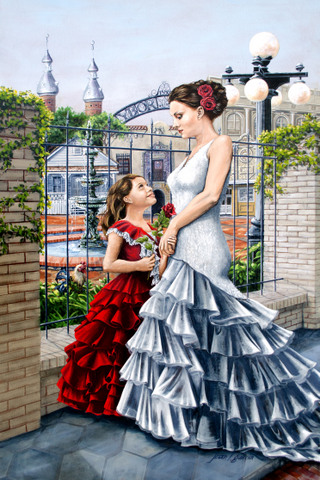 WHITE FLAMENCO

24" x 36"  OIL ON CANVAS $2,500

SOLD: PRIVATE COLLECTION

This painting chronicles five generations of the family in the Tampa Bay area.  Many of the local buildings shown bring back memories of family members; parents were Board Members of Centro Asturiano, the minarets of the University of Tampa represent two generations of attendees. An Ybor rooster can be found hidden in the greenery and reminds the family of the old Ybor City neighborhood and their grandmother's backyard. Members of the family were cigarmakers depicted by the Casitas. The Columbia was the place of many family gatherings as well as high school friends. The roses remind the family of a trip to Spain 40 years ago and the woman's profile is similar to a beautiful young cousin. And finally, the bakery (now the home of the Ybor History Museum) brings back memories of daily warm Cuban bread.